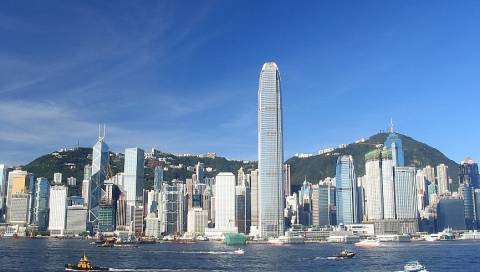 Hong Kong is a Special Administrative Region of the People's Republic of China. At the south-eastern tip of China, Hong Kong covers Hong Kong Island, Lantau Island, the Kowloon Peninsula and the New Territories, including 262 outlying islands. Between Hong Kong Island and the Kowloon Peninsula lies Victoria Harbour, one of the world's most renowned deep-water harbors. With land mass of 1,104 km2 (426 sq mi) and a population of seven million people, Hong Kong is one of the most densely populated areas in the world.
Hong Kong is one of the world's leading financial centers. It is an important centre for international finance and trade, with one of the greatest concentration of corporate headquarters in the Asia-Pacific region, and is known as one of the Four Asian Tigers for its high growth rates and rapid development between the 1960s and 1990s.
Chinese and English are the official languages of Hong Kong. Over 95% of the residents speak Cantonese and Mandarin (Putonghua) is increasingly widespread. English is the common language in international business.
Hong Kong has a sub-tropical climate, being temperate for nearly half the year, with cool, dry winters and hot, humid summers. The average temperature for February in Hong Kong is 16C (60.8F) degrees and humidity is around 78%. Current weather and 7-day weather forcast can be checked from Hong Kong Observatory.
A helpful way to plan your visit is to use the DiscoverHongKong web site. Visitors traveling to Hong Kong by air carriers will fly directly or connect to Hong Kong International Airport.